We are living in a new world, so why not live virtually in a new Moodle? 
While NMC may have been forced by the Internet security gods to upgrade to Moodle 3.8 a bit earlier than desired, we think the improvements and new features will be popular with faculty and students. Here is what to expect when the new version goes live Thursday, May 7th:
MOODLE'S NEW LOOK:
Our previous Moodle theme served us well for a long time, but since it is no longer supported we needed to make a change. You'll notice the differences immediately: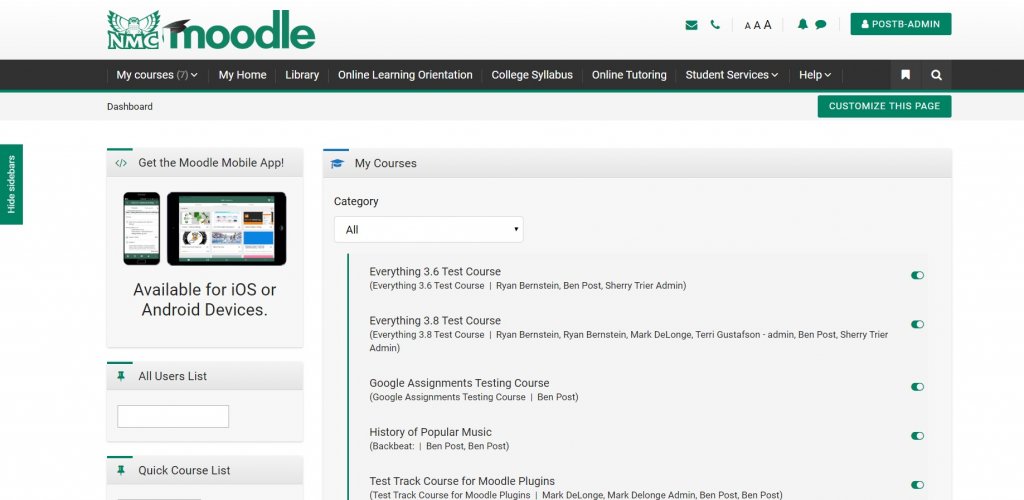 At first glance, it may seem like "everything" is different. You might even think you clicked on the wrong link from MyNMC! Please know, however, that the vast majority of these changes are merely aesthetic. While the fonts, graphic design, and colors are different, features and buttons (unless specified below) have the same names and appear in the same places as before. Think of it like Moodle got some new clothes for the upcoming school year; it didn't change majors!
NEW WORKFLOW:
So, what has changed? Mostly, there are new features (discussed below). The main "difference" will be in how you (and your students) navigate course content. This is due to the replacement of the "turn editing on" button with the new "course management" button. It is found in the same location, but clicking on it opens up a whole new world of intuitive (dare we say that about Moodle?) navigation options. Here is where it can be found:


Best of all, when you scroll past that button down the page, it magically appears as a tab to the left of your screen, meaning easy navigation and page editing is always right there (no more endless scrolling through your course!):


When you click on "Course Management", this is what pops up: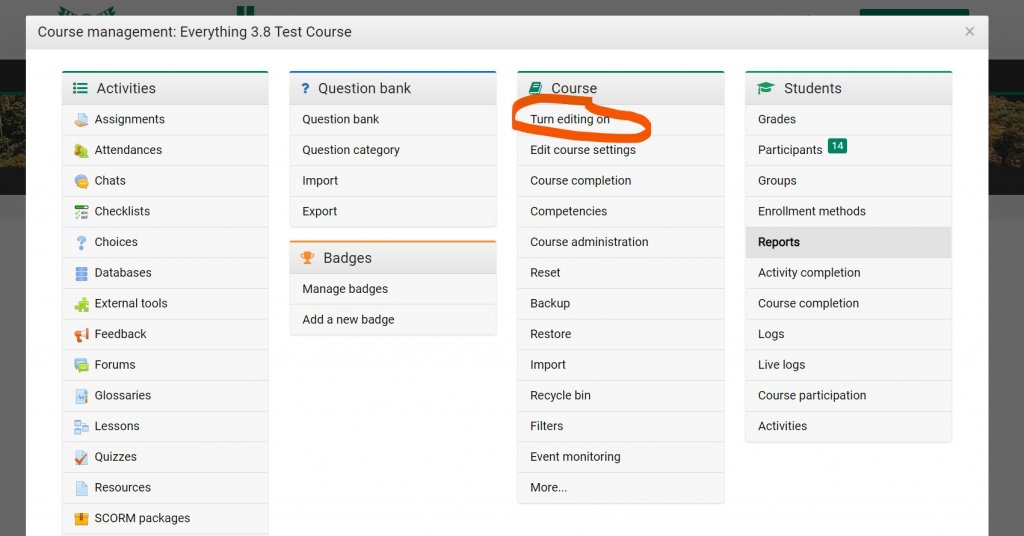 The "course management" pop-up organizes nearly every piece of content in your class, while also providing fast and straightforward access to your gradebook, participants list, activity reports, and course administration. This is also where you'll find the "turn editing on" link (circled above) that allows you to edit and add content to your course.
While this feature represents the most dramatic change from our previous version of Moodle, we don't think it will take long for instructors to become familiar with it. Dare we say, we think you might even come to love it.
NEW HOMEPAGE FEATURES:
The new Moodle homepage will include several exciting upgrades. First, there is now a "My Courses" dropdown found in the main menu, meaning users can access all of their courses with one click from any page in Moodle. Secondly, there is now a bookmark feature, allowing users to create saved links to important content pages. Finally, users will also have the ability from any page to customize Moodle's font size (great for accessibility), contact Moodle support, conduct searches, and link directly to NMC's social media pages.
FORUM IMPROVEMENTS (ASK AND YOU SHALL RECEIVE!):
Forums have been updated to now include the option of sending private replies to students (so only they will see your comment), the ability to organize discussions by topic or student submission, the ability to add forums to the Moodle Calendar block (finally!), and, most excitingly, the opportunity to assign grades to forums and grade them from an entirely new (and incredibly intuitive) interface. Here's where you click to grade a forum: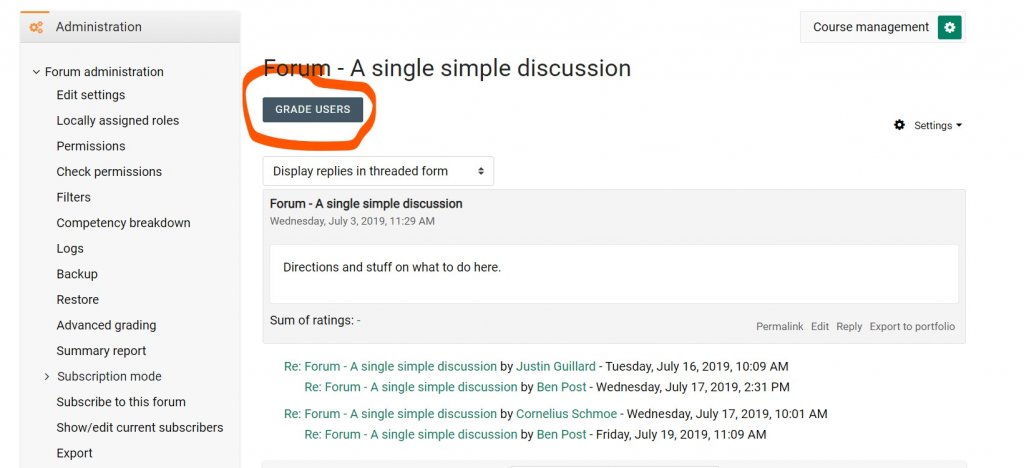 CHANGES TO MOODLE MESSAGES:
The Moodle messaging icon is now located a little higher on the page and new features include the ability to create group conversations, as well as mute or delete conversations. Timestamps in the conversation list now include days and years. Oh, and messaging now includes emojis!
The upgrade to version 3.8 will take place overnight between May 6th and May 7th. The following Zoom "Moodle 3.8 Orientation" support sessions are available this week to assist you with the transition (you can get to these sessions by clicking the links below or the corresponding Keep Teaching Google Calendar links):
Tuesday, May 5th: Moodle 3.8 Virtual Tour
Description: See Moodle's new features before we go live! These sessions will begin with a guided tour of Moodle 3.8 on our staging server (where we have been conducting tests) and conclude with a Q&A.
Session 1: 10-11 am
Session 2: 2-3 pm
Thursday, May 7th: Moodle 3.8 "In-TIme" Training
Description: Get "in-time" support while you explore Moodle 3.8! These sessions are designed to answer questions and provide assistance as you explore Moodle's new features on your own device at your own pace. 
Session 1: 10-11 am
Session 2: 2-3 pm
If at any time you need assistance with the Moodle transition, please submit a Help Desk ticket. As always, Ed Tech is here to help!