Welcome to our Support Center
Posting & Responding to Moodle Forums
Posting
Step 1: From within your course in Moodle, open the Forum by clicking on it.


Step 2: Carefully read the instructions provided by your instructor.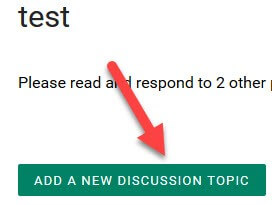 To attach a file, drag and drop a file from your computer into the Attachment box area where you see the blue arrow, or click the Add… icon in the upper left corner of the Attachment area.
Step 3: Post your response by clicking on the Add a new discussion topic button. Fill in the Subject and type your post into the Message box.
Step 4: Click the Post to forum button at the bottom when you are finished.
Responding
Step 1: To respond to a posting in a Forum, open the Forum by clicking on it. The Forum opens to a listing of all the discussion posts. Open a post by clicking on the title/subject of the post listed in the Discussion column.


Step 2: To respond, click on the Reply link located in the bottom right corner of the post window.


Step 3: Type your response in the Message box. Attach a file if you need to. Click the Post to forum button at the bottom when you are finished.
Settings
In a forum you can choose to Subscribe or Unsubscribe to it from the Administration block menu. Subscribing to a forum means you will receive an email every time someone posts (25 posts = 25 emails sent to you). You can adjust how often you receive an email from within your profile settings.
Step 1: Click your name at the top right of the screen to open a drop-down menu and click the Preferences link.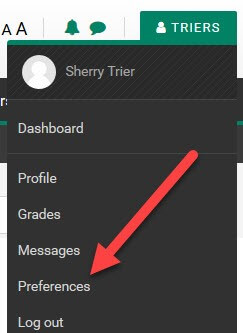 Step 2: Click Forum preferences from the list of options on the left under User account.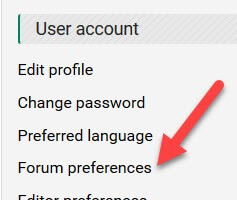 Step 3: From the Email digest type drop down menu, select how you would like to receive email from the forum: One email per post, a daily email with the posts, or a daily email with just the subject of the posts.
Another setting you might want to change here is Forum tracking. From the drop down menu select whether you want the forum to highlight new posts for you.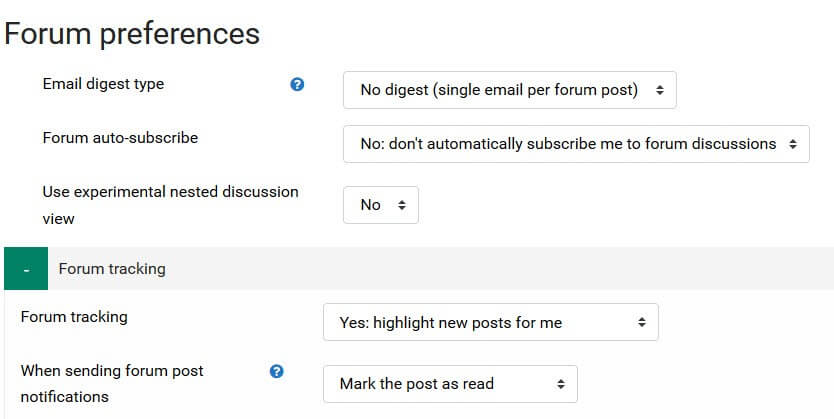 Step 4: When you are finished, scroll down to the bottom of the page and click the Save changes button.
Display Format
You can also control the format of how forum posts are displayed. For most forum types after you open a post, there will be a drop down menu at the top right that will say, Display replies in… Click the drop down menu and select how you would like posts to be displayed (oldest first, newest first, threaded form, or nested form).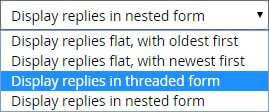 For Moodle help, contact the NMC Technology Helpdesk at 231-995-3020