What are Blocks?
Blocks are items (menus or informational) which can be added to the left column in your Moodle course. The most common blocks used are the Calendar, Navigation, Administration, and Course Menu.
Adding a Block
From within your course in Moodle, from the Course management button, Turn editing on, look for the Add a Block menu block at the bottom of the left column. Click the drop down arrow next to Add…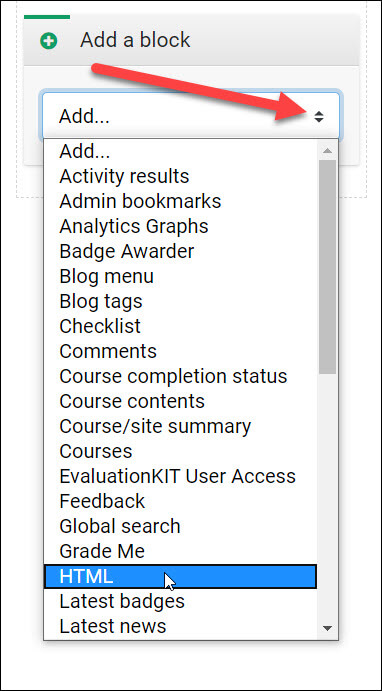 Click on the block you want to add. NOTE: If a block is "missing" from the list, check your course, it may already be there. The screen refreshes and the block is added to the column.
Moving
With editing turned on in your course, locate the Move icon in the upper right of the block (just the right of the block title). The icon looks like multi-directional arrows.

With your mouse pointer over the Move icon, click and hold, and then drag and drop the block to where you would like it placed.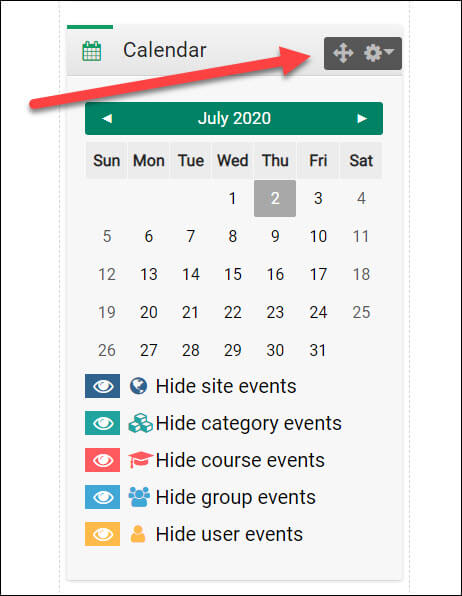 Editing a Block
With editing turned on you will also see the Actions icon in the upper right of your blocks.

The Actions icon looks like a gear, click on it and then select what you would like to do with the block:
Configure (if this is an HTML block, this is where you will click to add content like instructor contact information)
Hide (make invisible to students)
Permissions
Check permissions
Delete
For Moodle help, contact the NMC Technology Helpdesk at 231-995-3020