Adding Annotations to Ensemble Videos
From your Media Library in Ensemble, click the Edit button located to the bottom right of the video you wish to work with.

Select the Annotate tab from the menu in the upper left area of the screen. The tab will open, and the video will start to play.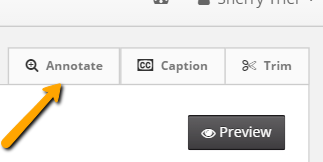 Enter your annotations. There are 3 different ways to advance the video to where you want an annotation entered:
Play the video, when it gets to a point you want an annotation, just start typing in the text box on the left below the video.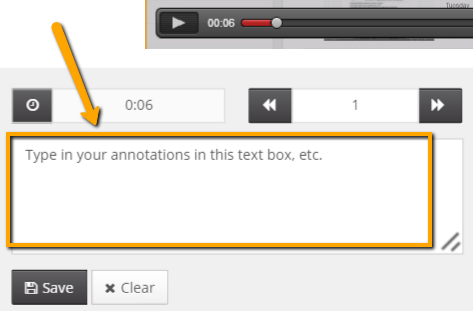 Use the slider in the video play window to advance through the video, then type in the text box on the left below the video.

Advance second by second from within the area you type your annotations by using the forward and backward arrows.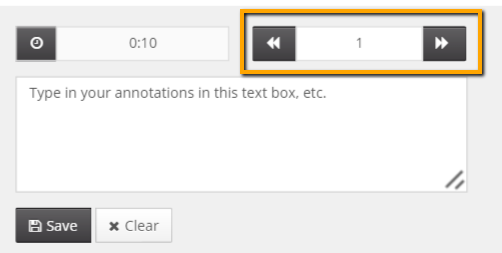 Each time you type in text press Enter or click Save. Your list of annotations will show in the box on the right. To delete an annotation, check the box next to it and click the Remove button at the top right of the window.

When finished, click the green Continue button at the bottom. From the Publish screen, click the green Publish button at the bottom to return to the Media Library.
Final Note: When you are ready to share the video, whether by a permalink or embed code, make sure you check mark that you want Annotations included.

Annotations: Creating Presets
If you do a lot of annotating with videos and use a particular phrase over and over, you may want to setup some Annotation Presets.
Creating the Preset:
In Ensemble, from the menu on the left select: Administration, Library, Annotation Presets.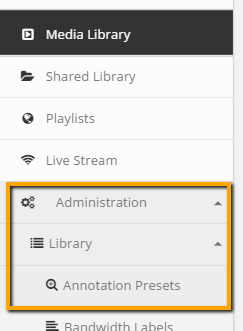 Click the +Add button, type in your annotation, click the Save button when finished.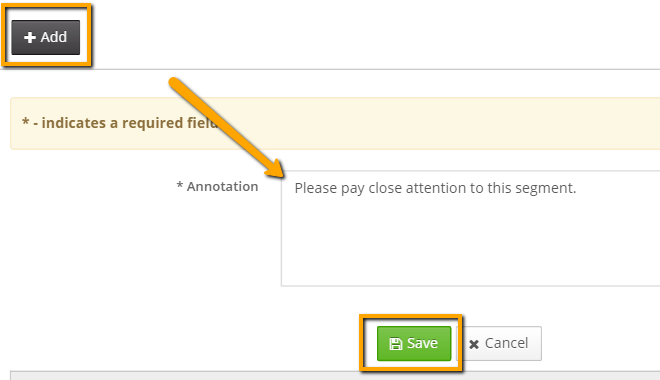 Using the Preset:
In the Annotations entry area, click the Custom Presets button, located below the Save and Clear buttons. Use the drop down menu to select the preset you would like. Click the +Insert button. Click the Save button.