Adding & Grading a Grade Item in Moodle
Adding a Grade Item
Adding a Grade Item in your grade book provides you a place to grade any offline activities, such as a presentation given in class, participation points, or other homework and quizzes handed in while in class.
Step 1: From within your course in Moodle, select Grades from the Navigation block menu.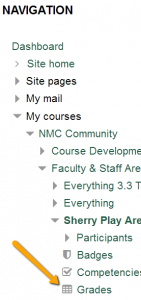 Step 2: Select the Setup tab.

Step 3: Scroll to the bottom and click the Add grade item button at the bottom of the page.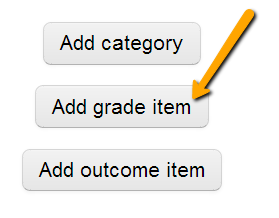 Step 4: Fill in the Item name and Maximum grade.
Step 5: If you have categories setup in your course, you will see a Parent category setting. Use the Grade category drop down menu to tell Moodle what category your added grade item should be placed under.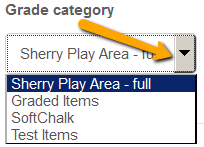 Step 6: Click the Save changes button at the bottom.
Grading a Grade Item
Step 1: In your grade book with the View tab selected, click in the box corresponding to the student and item you would like to enter a grade for. After you click, you may notice one or two boxes activated, this depends on whether you have feedback turned on.

Step 2: Type the grade/points into the first box, and any feedback into the second box. The grade is automatically recorded for the student.