Creating a Video Dropbox for Students
You can create a dropbox in Ensemble with a link that will allows students to turn in video or audio files to your Ensemble library.
Creating the Dropbox:
In Ensemble, from the menu on the left, select Administration, Library, Dropbox, and then click the Add button. Enter a Name for the drop box (ex. Drop Box for MKT111 Video Project). Add to the end of the URL a short name for the file location (ex. MKT1701). For Description, enter instructions which will appear on the submission form. Un-check the Public option. Click the Save button at the bottom.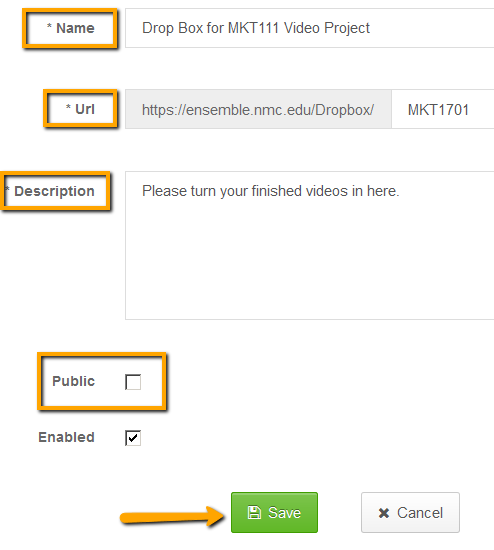 Highlight and copy the link by using ctrl+c or right click on it and select Copy.

Linking in Moodle:
In your course in Moodle, turn editing on, and in the topic area where you want to place the link, click +Add an activity or resource. Select URL and click the Add button. Fill in the Name. Under Content, paste the URL in the space provided by using ctrl+v or right click and select Paste.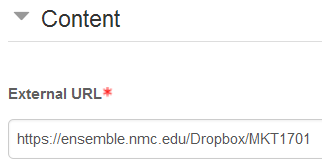 Scroll down and click the Save and return to course button at the bottom.
How it works
Students click on the dropbox link, fill out the form and attach their file. The file is then uploaded directly into your Ensemble library. When you open a video that was submitted, it will provide information on who submitted it.
Once the files are in your library you can publish them to a playlist and share them with your students.