Creating Content in Mahara
The first thing you'll want to do to get started in Mahara is to enter your information. The Content tab is where you go to enter your profile information and picture, resume, files, etc.
Profile Information
Hover your mouse over Content and select Profile.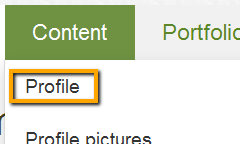 The Profile area opens and you should see tabs for: About me, Contact information, Social media, and General.

Start by filing out the About me information and then work your way through each tab. Putting in the information you want to share. The red asterisk will indicate what fields are required. Remember to click the Save profile button at the bottom for each area when finished.
Profile Pictures
Hover your mouse over Content and select Profile Pictures.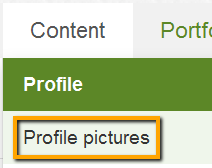 Under Upload profile picture, click on the Browse… button. Find the picture you would like, select it and click Open. When finished click the Upload button. Make your picture the default picture others will see by clicking in the circle in the DEFAULT column. Click the Set default button to save your selection.
Files
You can upload files and create folders of files for use on your portfolio page you create. Hover your mouse over Content and select Files.
Click the Browse… button to locate your files, or drag and drop them over in the dashed box area indicated.

Resume
This is where you build your online resume or CV. Each area of information you enter will be available to you to use to build your portfolio pages. Hover your mouse over Content and select Resume.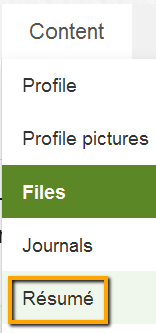 Work through each tab: Introduction, Education and employment, Achievements, Goals and skills, and Interests.

Start by creating a Cover letter. Click Edit and an area to type and format your letter will come up. Continue by working through your Personal information. Remember to click the Save button at the bottom. As you work through the remaining tabs, you will either see a pencil icon to edit or an add button that will allow you to add information in each area.