Creating a Choice Activity for Choosing Project/Research Topics
In this example we will create a Choice activity where students select which state they would like to research and present on, limiting the choices to 2 students per state: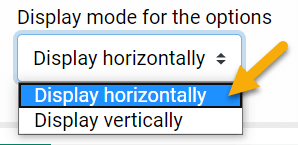 Step 1: Within your course in Moodle, Turn editing on, and in the topic area you want the activity click Add an activity or resource, select Choice and click Add.
Step 2: Enter the Choice name and Description (which would be your instructions).
Step 3: Using the Display mode for the options drop down menu, select if you want the choices listed horizontally or vertically on the page.
Step 4: Options: Using the Allow choice to be updated drop down menu, choose if you want to allow students the ability to update their choice. You can allow students to make more than one choice by selecting Yes for Allow more than one choice to be selected. For this example use the Limit the number of responses allowed drop down menu to set this to Yes.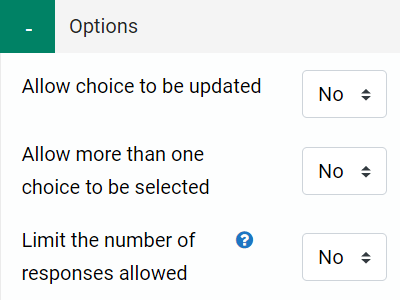 Fill in the options (in this case the states students choose from) and the response limit number (in this case 2).

Step 5: Under Availability you can choose to restrict the window of time students make their selections. Checkmark Enable check boxes and set your dates accordingly.
Step 6: Make selections under Results as to how you want things to show or not show for students. In this example we are allowing students to see the going list of choices with names once they make their selection.

Step 7: When finished, click the Save and return to course button at the bottom.
Creating a Choice Activity for Project Progress Check-in
Have students go in and change their selection according to what stage of the project they are in. You can then watch the progression of your students and note if anyone is really far behind.
Option Settings:
Allow choice to be updated = yes.
Limit the number of responses = no.
Availability Settings:
You can set these for when the project starts and is due if you wish.
Results Settings:
Publish results = Do not publish results to students.