A Folder helps organize several files that pertain to the same subject matter by organizing them in one folder. This saves space on the course homepage by not having the files all listed individually.
Creating
Step 1: From within your course in Moodle, turn editing on, then in the topic area you'd like to add a Folder to, click the Add an activity or resource link.
Step 2: Select Folder and then click the Add button.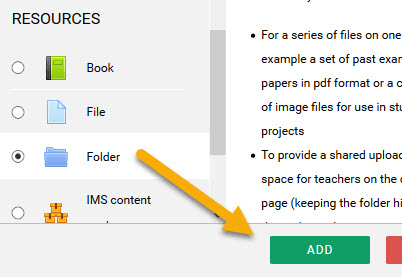 Step 3: Enter a Name in the text area provided.
Step 4: In the Content area you can either drag and drop your files into the text area where the blue arrow is, or click the Add files (piece of paper with corner folded) icon in the left corner of the menu box to browse for the files you would like to attach.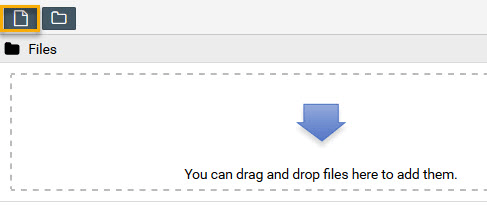 Step 5: When you have all your files added, click the Save and return to course button at the bottom. The Folder is created and now appears on your course homepage.