Moodle Forum Activity
Types of Forums
A single simple discussion: Students are limited to replying to only one topic. Useful forum to keep the focus of the discussion on a single theme.
Each person posts one discussion: Each student can post exactly one new discussion topic that everyone can reply to. Once a student creates a new discussion topic, the Add a new discussion topic button disappears from their forum view.
Q and A forum: Students must post their reply first before they are allowed to view other students' posts. Instructors must first post a question for students to respond to.
Standard forum displayed in a blog-like format: This is an open forum where anyone can start a new discussion at anytime, and in which discussion topics are displayed on one page with Discuss this topic links.
Standard forum for general use: This is the default forum where anyone can start a new discussion at any time. Students can add multiple discussion topics and can reply to any of the posts in the forum.
Creating a Forum
Step 1: From within your course in Moodle, Turn editing on, then in the topic area where you'd like your forum, click Add an activity or resource, select Forum and click the Add button at the bottom of the menu area.
Step 2: Fill in the Forum Name, and in the Description box area, type in your instructions for the students. Using the drop down menu for Forum type, choose the type you are using.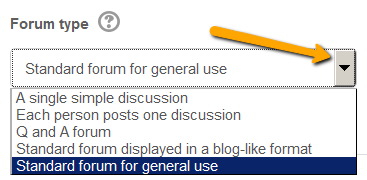 Step 3: Select your settings.
Attachments and word count, this is where you can allow students to attach files to their posts and turn on a word count if you are requiring them to respond in so many words.
Ratings, use the drop down menu for Aggregate type to choose how you will rate students' forum posts, the Scale drop down menu will allow you to assign a scale or points, and you can set a date range for what posts you will rate.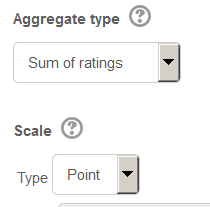 Step 4: When you are finished with your settings, click on the Save and return to course button at the bottom.
Grading Forums
To grade a standard forum:
Step 1: From within your course in Moodle, click on the forum to open it.
Step 2: Open the post you wish to grade by clicking on the Discussion title for that student. Using the Rate… drop down menu, select the grade points you are assigning. The grade is automatically saved and populated into the grade book.