A Page can display text, images, sound, video, web links, and embedded code. It's great for (page-long) information that you plan on updating such as schedules, lists of resources, instructions, and more.
Creating
Step 1: From within your course in Moodle, Turn editing on, then in the topic area you'd like to add a Page to, click the Add an activity or resource link at the bottom.
Step 2: Select Page and then click the Add button at the bottom.
Step 3: Enter the Name in the text area provided.
Step 4: In the Content area add your information in the Page content text box provided.

Step 5: Under Appearance, using the Display drop down menu, select In pop-up to have the page open in a new window, or Open for the page to display right in Moodle.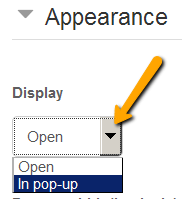 Step 6: When finished, click the Save and return to course button at the bottom. The Page is created and now appears on your course homepage.