Using the Moodle URL Resource
A URL allows you to add a web link to items available online, such as web pages, images, and documents. From within your course in Moodle, Turn editing on, then in the topic area you'd like to add a URL to, click the Add an activity or resource link at the bottom.  Select URL and then click the Add button at the bottom. Enter a Name in the text areas provided.
In the Content area, paste or enter the External URL in the box provided. Under Appearance, using the Display drop down menu, select how you would like the link to open, such as in a new window, a pop-up, or embedded.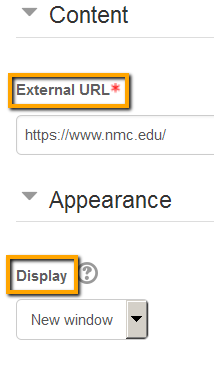 When finished, click the Save and return to course button at the bottom.