When setting up your Assignment in Moodle, you can choose to have students submit their responses as an audio response right in Moodle, as well as choose to provide audio feedback to your students. Note that a mic (for audio) is required for these features.
In your course in Moodle Turn editing on. While creating a new assignment or editing an already existing one, under Submission types, choose Online PoodLL.
For PoodLL Rec. Type select Audio Recorder. Fill in the PoodLL Rec. Time Limit in the text box provided. Use the drop down menu to select minutes, hours, days, etc.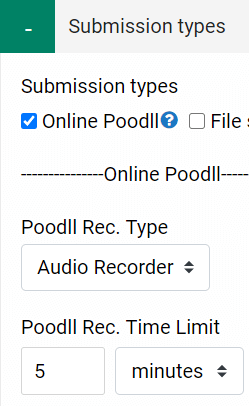 For Feedback types, check Feedback PoodLL. Choose Audio Recorder from the PoodLL Recorder Type drop down menu.
Select whether you would like to Show a download link of your feedback to the student.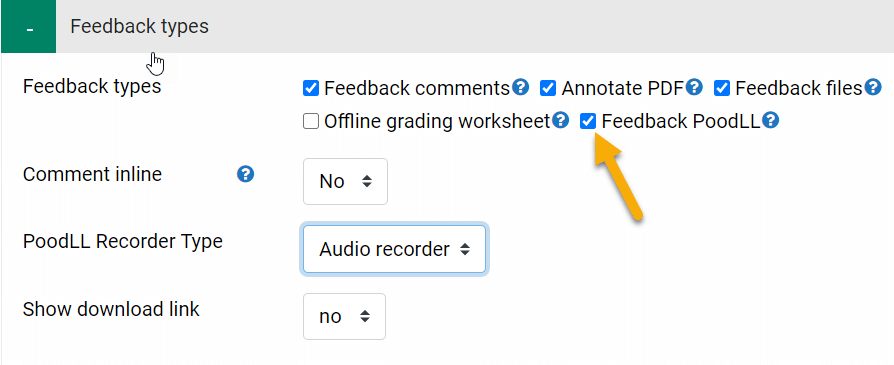 When finished making your selections, click the Save and return to course button at the bottom of the page.
Grading/Feedback
You will need to grade these assignments from within the assignment area.
Step 1: From within your course in Moodle, click the Assignment to open it.
Step 2: Click on the View all submissions link. This opens the Submissions table for the assignment.
Step 3: In the Grade column, click the Grade icon. This will open the Submission status and Grade area for the student you are grading.
Step 4: In the Grade area, enter the Grade, type in any Feedback comments, or upload any Feedback file.
Step 5: For audio feedback, click the RECORD button. When you are finished recording, click the STOP button. You can now click the PLAY button to review your recording. If finished recording click the UPLOAD button.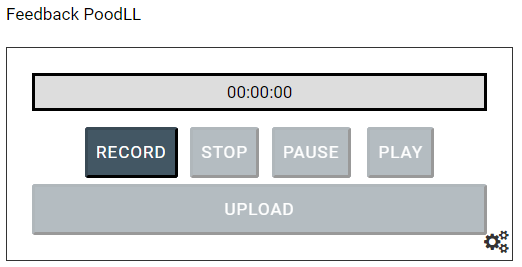 Step 6: When finished, scroll to the bottom of the page and either click the Save changes button, or the Save and show next button to continue grading additional students.