Professional Development

The program is scheduled for two delivery methods each year and takes approximately 30 – 35 hours to complete.  A week-long boot camp style session in May and a separate, your-paced, online version are offered.  Completion of the program and capstone project earns instructors NMC's Online Teaching Certificate and makes faculty eligible to teach online courses.  Adjuncts completing the program and a capstone project are eligible for a $400 stipend. 

Work in concert with the entire Educational Technology team throughout a semester to build a new, high quality, engaging, and interactive online course. Submit the Online Course Development Form for development cycles beginning in May or November.

Participate in a multi-discipline cohort of faculty members to review, modify, adapt, and improve an existing online course. Learn about current educational technology and best practices used to reach online learners.
---
Read more about the PD programs or contact Ryan Bernstein or Mark DeLonge with questions.
---

This is a CIE-sponsored training program for new faculty, adjunct and regular, who have little or no formal teacher training or teaching experience. The self-paced program allows instructors to study, investigate, reflect, and discuss important aspects of teaching NMC's students.  Read more…
NMC Examples
Celebrating best practices of NMC faculty: A resource of short videos on topics including Active Learning & Student Engagement, Building Community, Course Development & Assessment, Engaging Local Resources, and Service Learning.
This resource includes links to components of courses NMC instructors have created and tutorials for the tools used to create these examples.
Video Portals
Collections of videos created by faculty for teaching their subject matter.
Best Practices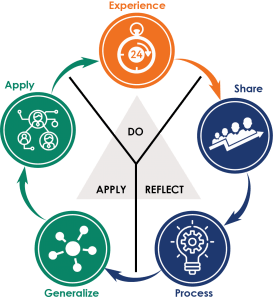 Experiential Learning
Read more about experiential learning…
---
Outcomes
Course Learning Outcomes are the primary skills, behaviors, abilities, expertise, and proficiencies the learner will "own" at the end of the course.  While the learner will need a certain level of knowledge or information in order to achieve the outcome, the emphasis in identifying the outcomes is on what the learner will be able to do with that knowledge or information at the end of the course that they couldn't do before.  
---