Welcome to our Support Center
Types of Forums
Moodle's forum activity contains five different forum types. Instructors can decide on which forum type fits their pedagogical needs depending on the desired outcomes of their lesson(s). Here are the five available forum types:
A single simple discussion: Students are limited to replying to only one topic. This is a useful forum to keep the focus of the discussion on a single theme.
Each person posts one discussion: Each student can post exactly one new discussion topic that everyone can reply to. Once a student creates a new discussion topic, the Add a new discussion topic button disappears from their forum view
Q and A forum: Students must post their reply first before they are allowed to view other students' posts. Instructors must first post a question before students can use this forum
Standard forum displayed in a blog-like format: This is an open forum where anyone can start a new discussion at anytime, and in which discussion topics are displayed on one page with Discuss this topic links
Standard forum for general use: This is the default forum where anyone can start a new discussion at any time. Students can add multiple discussion topics and can reply to any of the posts in the forum
Creating a Forum
Step 1: From within your course in Moodle, toggle Edit mode to ON. Then, in the topic area where you'd like your forum, click Add an activity or resource, select Forum from the pop-up: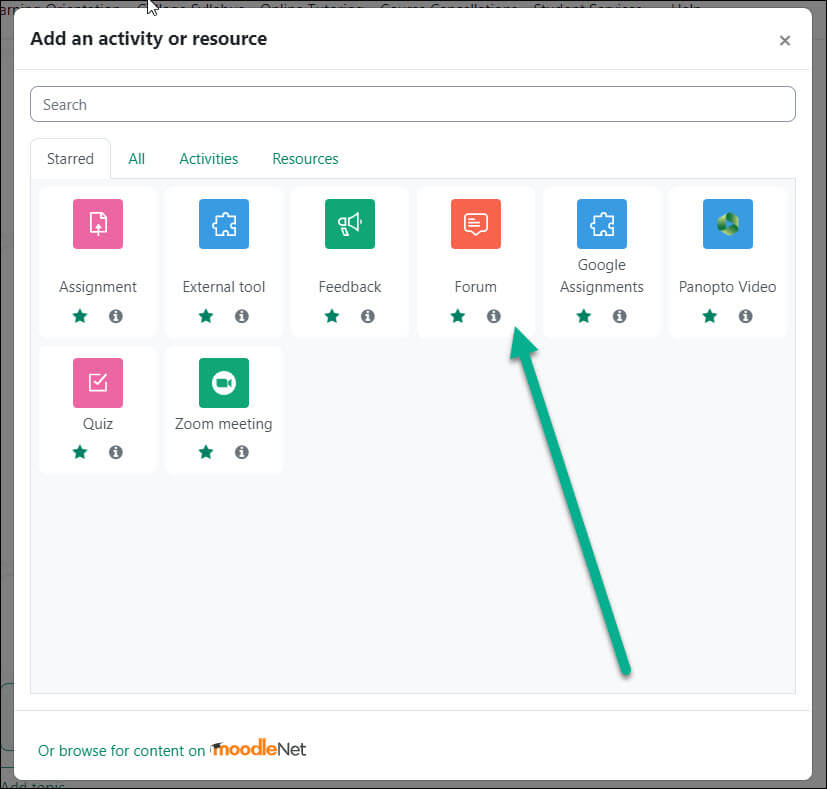 Step 2: Fill in the Forum Name, and in the Description box area, type in your instructions for the students (not required, but helpful). Using the drop down menu for Forum type, choose the type you are using: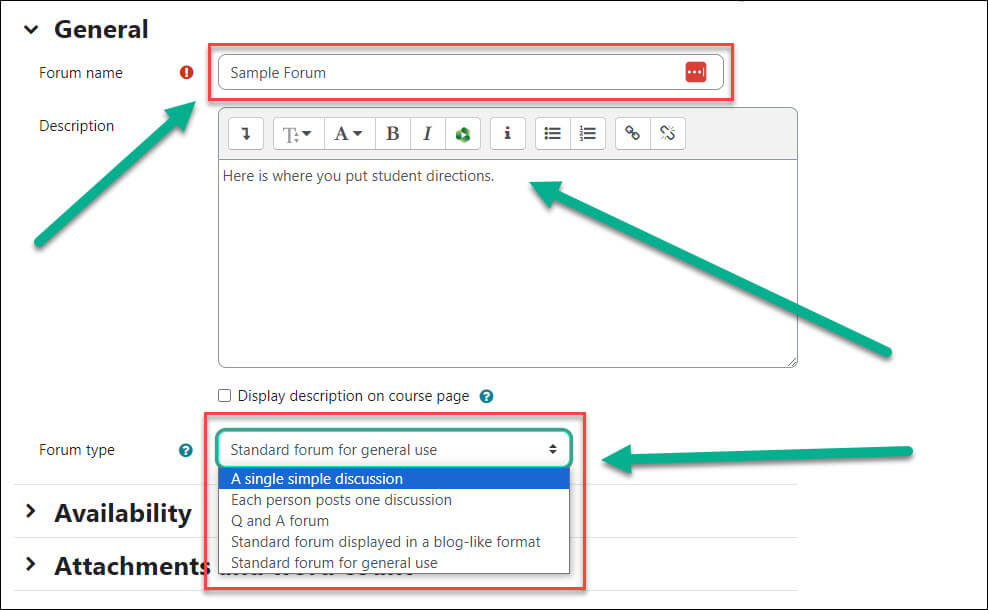 Step 3: Make selections to your settings. Here are descriptions of a few of the more common options:
Attachments and word count, this is where you can allow students to attach files to their posts and turn on a word count if you are requiring them to respond in so many words
Whole forum Grading allows you to grade student forum postings from a forum grading interface that allows you to see a students entire contributions to the forum on one page (for more on Whole forum grading, see the next section)
Ratings allows users to rate each other's forum posts, and it can also be used as another grading method. Use the drop down menu for Aggregate type to choose how you (and potentially other students) will rate students' forum posts
Step 4: When you are finished with your settings, click on the Save and return to course button at the bottom:

Setting up Whole Forum Grading
Whole forum grading allows instructors to assess student forum postings from an intuitive grading interface that collects all of each student's postings on one page. Here's how to set it up:
Step 1: From within your course in Moodle, click on the forum to open it.
Step 2: Click Edit settings from the navigation block on the left. On the next page, scroll down to the Whole forum grading section and select a grade type (points or scale) from the drop down
Step 3: Adjust the grade settings to your preference. The options featured in Whole forum grading are the same as they are for assignments. You can select the grade type, point value, as well as the grading method and grade category: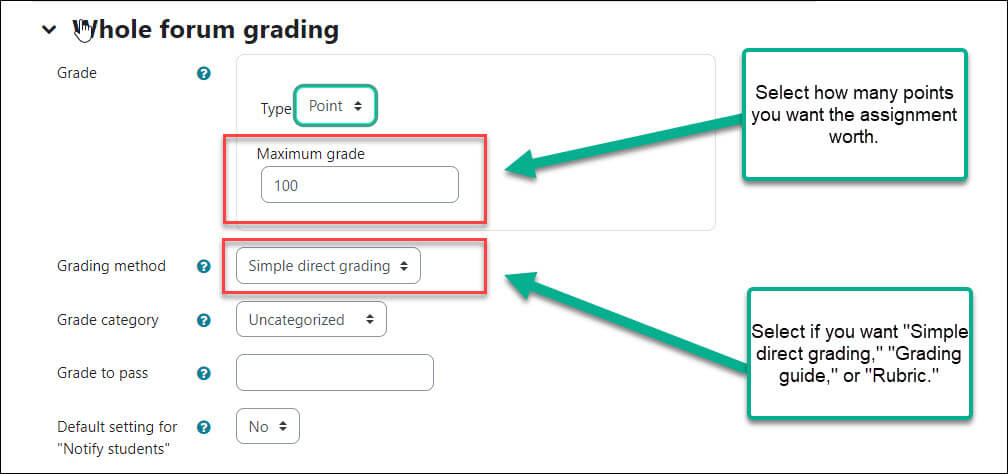 Grading with Whole Forum Grading
If you have Whole forum grading set up in your discussion forum, you can assess each student from the forum grading interface. Here's how:
Step 1: Open the forum
Step 2: Click on the Grade users icon that appears directly above the list of discussion postings: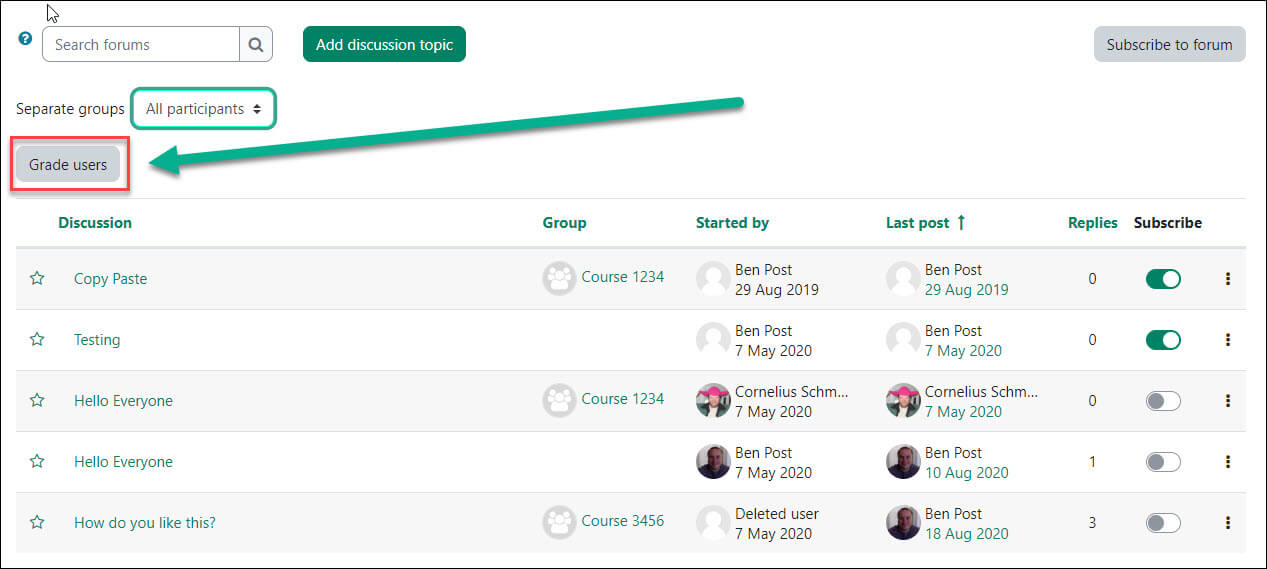 Step 3: On the next page, you will see one student's entire collection of forum postings (including responses) on the left. On the right, you will see the student's name and a place to enter a grade (or a rubric or grading guide if either option was selected when you set up the forum).
Step 4: Enter your grade for the student and click the "next" arrow to view another student's submissions. Continue until you have entered a grade for each student. When finished, click the Save button at the top. To return to the forum, click Close. These grades will be automatically added to your Moodle gradebook.
Grading with Ratings
Forum grades can also be administered through ratings. NOTE: grading forums through the ratings feature does not offer the intuitive grading interface featured in Whole forum grading. To grade a standard forum within the Rating settings:
Step 1: From within your course in Moodle, click on the forum to open it.
Step 2: Open the post you wish to grade by clicking on the Discussion title for that student. Using the Rate… drop down menu, select the grade points you are assigning. The grade is automatically saved and populated into the grade book: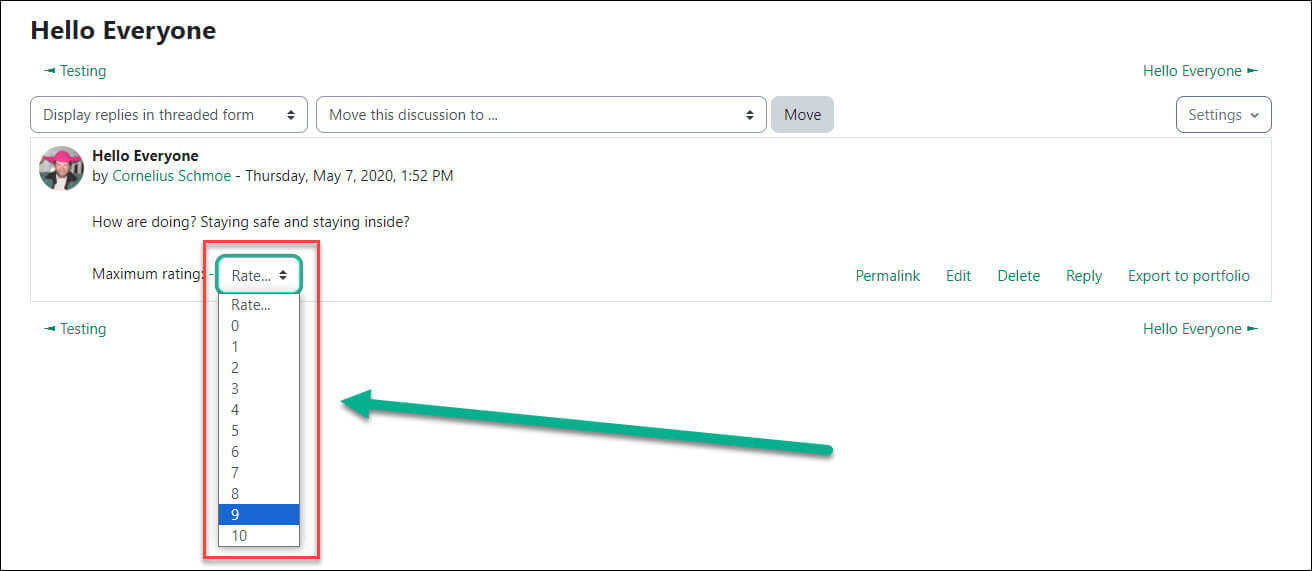 For Moodle help, contact the NMC Technology Helpdesk at 231-995-3020