The Center for Instructional Excellence supports student learning by encouraging faculty-driven initiatives, promoting development of faculty knowledge, and recognizing the achievement of excellence.
Conferences
---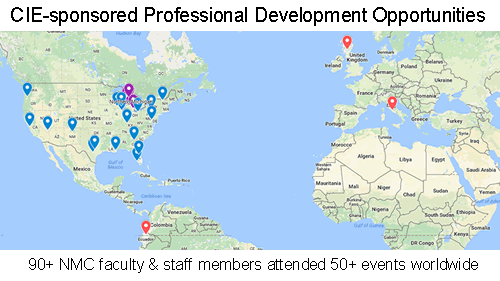 Professional Development Funding Process
Complete the Travel/Professional Development Request form and submit the form to your area chair for approval.
Review a list of possible conferences to attend.
On-Campus Professional Development
---
Friday Connects
12:30 PM – 2:00 PM | Zoom
Held the first and third Friday of each month. Watch your Google calendar for details and the Zoom link.
CIE Coffee Club
TBD
Professional Development Days
AUG 17 – Opening Conference
OCT 8 – FedEx Day
JAN 4 – NMC Winter Conference
CIE Book
Engaging Learners through Zoom

Pick up your copy at the Welcome Desk at the West Hall Innovation Center.
Engaging Learners through Zoom delivers numerous practical strategies and helpful advice on how to engage students virtually. Many of the tools are also applicable in face-to-face and hybrid environments. Backed by cognitive neuroscience research, this book is a collection of dozens of active, synchronous online learning structures that can be used in any discipline, perfect for K-12 through higher education.
CIE Resource Library
CIE maintains a section of books and resources within the Osterlin Library for faculty use. Browse the titles online.