The Center for Instructional Excellence supports student learning by encouraging faculty-driven initiatives, promoting development of faculty knowledge, and recognizing the achievement of excellence.
Links to conferences that faculty have attended in the past.
---
Friday Forums
12:30 PM – 2:00 PM | Osterlin 203 | Lunch provided
OCT 6 –  Free Speech in the Classroom
NOV 3 –
DEC 1 – Best Practices
FEB 2 –
MAR 2 –
APR 6 –
20 Minute Mentor Coffee Club
10:00 AM – 11:00 AM | Coffee Provided | No RSVP Necessary
Place the following dates on your calendar and join CIE to view and discuss a video segment on teaching and learning as a group.
Fall sessions:
SEPT 15 –  Paying the Price – NMC Reads
OCT 20 –
NOV 17 –
Spring sessions:
JAN 19 – Instructor self-care and wellness
FEB 16 –
MAR 16 –
APR 20 –
On-Campus Professional Development Days
OCT 10
Our eleventh-annual NMC Fall Conference.   Lunch provided.
NMC Reads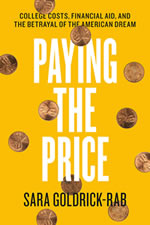 Each year the CIE Board selects a book which has connections to the classroom, but that also has ties to our personal and professional acumen. The book for 2017-2018 will be Paying the Price: College Costs, Financial Aid, and the Betrayal of the American Dream.  Temple University professor of sociology and higher education policy, Sara Goldrick-Rab, shows that college is becoming more and more important to future financial security and the dream of a middle-class lifestyle. At the same time, however, it is becoming harder and harder for students to afford it.
Faculty can get a copy of the book – free of charge. Please contact Rita Kucera (rkucera@nmc.edu) to request a copy. The book will be discussed during a session of the October Professional Development Day in the fall.
CIE Resource Library
CIE maintains a section of books and resources within the Osterlin Library for faculty use.  Browse the titles online.