AI seems to continue to dominate the news in general and in higher education. Considering there are advances in the features almost daily, ChatGPT, Bard, and DALL-E will continue to be a hot topic for the foreseeable future. This is why I invite you to attend the Artificial Intelligence Online Fall Summit presented by the Instructional Technology Council on November 8, 2023, from 11 a.m. to 4 p.m. The opening keynote will be Flower Darby, Associate Director of the Teaching and Learning Center at the University of Missouri. Her topic, "Teaching in an AI World: Building Confidence and Finding Our Way", will set the tone for the rest of the summit featuring panel sessions and presentations. The cost to attend is $50 and registration is open.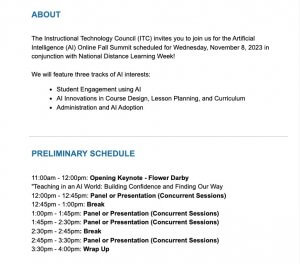 The Educational Technology Organization of Michigan (ETOM) will have its 2023 Fall conference on Friday, October 27th at Schoolcraft College in Livonia, Michigan. Dr. Jeff Borden, the former Chief Innovation Officer and current Dean of the School of Leadership Studies at Gonzaga University will be the keynote speaker.
The full conference schedule will be released after October 1st but the outline of the day is captured below. If you are interested in attending, registration is open, and here's a sneak peek at the sessions:
Creating a Culture of Flexible Instruction: Leveraging Digital Tools for Dynamic Learning Environments
Embracing AI as an Accessibility Tool
Ethical and Effective Use of AI – What do Students and Faculty Need to Know?
AI is here -To use or not to use… or how to use?
Globe Trotting Within Your Classroom: Using Virtual Exchange to Liven Up Classroom Discussions
Generative AI: What's Under the Hood and How Your Students Are Using It
The Lion, The Witch and the Wardrobe: Designing Online Courses with Three High-Engagement Techniques
ETOM is looking for a couple more topics to round out the program. Please use the link below to submit a proposal by Friday, October 6.