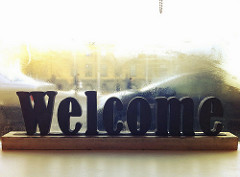 The Educational Media Technologies team would like to welcome all faculty back for the start of the 2017-2018 academic year. As many of you know, we were very busy over the summer getting ready for the Moodle upgrade, creating a new Moodle & Online Learning Orientation, and producing the Summer Shorts series. In addition, we worked with several instructors to redesign their online courses and launched a new badging initiative for faculty who complete (or have completed) Teaching Solutions, won the Faculty Excellence Award or the Adjunct Faculty Excellence Award. If you received a badge from Credly (the resource we are using to issue badges) and aren't sure what it is or what to do with it, reach out to us and we are happy to help.
Quick hits:
If you were not able to join us for the Summer Shorts series, you can view all the episodes using our Ensemble playlist. Topics include collaboration and feedback tools in Google Docs, using Autocrat with Google Sheets, the skinny on Ensemble Anthem, an introduction to the EMT Lightboard, Moodle version and theme introduction, what's new in Moodle 3.3, and the new Moodle Orientation.
Did you know that EMT has a Twitter presence? If not, you can follow us @NMCedtech. We often retweet current instructional technology news or post "did you know" items about NMC supported instructional technology.
Finally, we would like to welcome Justin Guillard as a full-time member of our team. While Justin has been here for almost two years, his role was as a supplemental employee. We are excited to have him on the team in his new capacity.
We hope all of you have a wonderful academic year and look forward to working with you on your instructional technology needs and explorations.