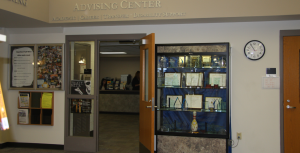 Your Advising Center has had a pretty busy year, and is pleased to announce an easy to find Advising information resource right here at: teaching.nmc.edu/advising. But before you click, please take a moment to check out what else they have been up to.
Advising Center Advisory Board
Formed last October, membership is made up of  representatives from ESIMT, Faculty Council, and Student Services. The Advising Center Advisory Board has been established to garner input and identify advising practices that best fit our institution.
If you have a question, suggestion, or input for the Advising Center Advisory Board you can contact Kim Schultz at kschultz@nmc.edu or 995.1127.
Did you know that each department has a liaison from the Advising Center?
The Liaison will serve as the department's primary contact. Starting soon, liaisons will be reaching out to each department to begin making connections and strengthening the relationship between the Advising Center and Academic Departments. This connection will help the Advising Center stay current on programs and the Faculty Advisors have the most up-to-date information to assist them in working with our students.
Want to know who your liaison is?

Aviation – Taylor Nash
Business – Taylor Nash
Business–Culinary – Deb Maison
Communications – Kim Schultz
Humanities – Deb Maison
Maritime – Shannon Owen
Nursing/Health Occupations – Shannon Owen
Science/Math – Deb Maison
Social Science – Kim Schultz
Technical Programs – Taylor Nash
The Advising Center offers training and on-going support to Faculty Advisors:
Keep your eye out for Advising Scenarios delivered directly to your email each month.

Monthly updates will be posted on teaching.nmc.edu/advising.

New training modules (and a complete re-vamp) of the Advising Training Process are under development.

Please add your topic suggestions and needs to the comments in this article or email Kim Schultz (kschultz@nmc.edu).