The Grackle Docs add-on for Google Docs, Sheets, and Slides is available to all NMC instructors, staff, and students. This add-on makes documents from G-Suite accessible under the WCAG 2.0 AA guidelines, Section 504 and 508of the Rehabilitation Act of 1973, and the Americans with Disabilities Act.
Adding Grackle to G-Suite
Open your G-Suite document (Docs, Sheets, or Slides). Click on Add-ons on the top toolbar. Then "Get add-ons."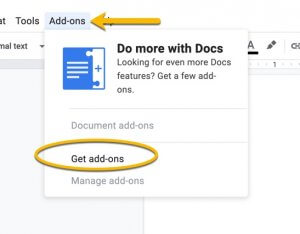 Search for Grackle when the G Suite Marketplace window opens. Pick the Grackle add-on appropriate for your G-Suite application.

Once the Add-on is installed, go back to the Add-on menu item, pick Grackle and then pick Launch.

The Add-on will take you through a series of NMC Google account verification steps. Once completed, you'll be able to begin using Grackle.
For step-by-step instructions in a video format, you can watch this Grackle Docs Accessibility Checker video.
Review Tips for Grackle Docs to understand the results you may get when using the tool to scan your document.