Using the Sharing Cart Block in Moodle
What is the Sharing Cart?
The Sharing Cart is a block for duplicating course items into a personal library. This creates an easy way to move those Moodle resources and activities between multiple courses in Moodle. With just three clicks, the Sharing Cart copies and moves a single course item from one course to another. It copies without user data–similar to the "Import" function in Course Administration.
Adding the Sharing Cart Block
From within your course in Moodle, Turn editing on. Look for the Add a Block menu block in the left column of the page. Click the drop down arrow next to Add… Click on Sharing Cart (Note: If a block is "missing" from the list, check your course, it may already be there). The screen refreshes and the block will be added to the left column on the page.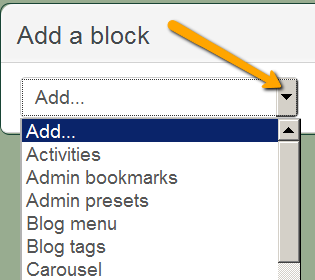 Adding Items to the Sharing Cart
Click the Edit drop down menu next to the item that you would like to add. At the bottom of the list click on Copy to Sharing Cart.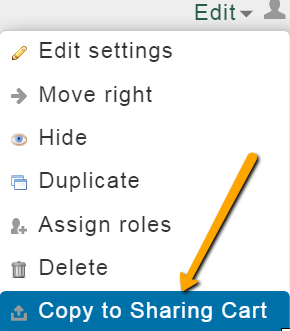 Click Ok to the Copy to Sharing Cart confirmation. The item is now available in the Sharing Cart Block.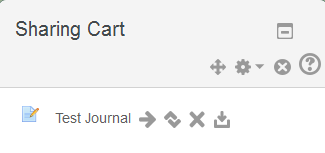 Copying items in the Sharing Cart to other courses
Turn editing on and make sure you have the Sharing Cart added to the course. Click the Copy to course icon under the item in your Sharing Cart.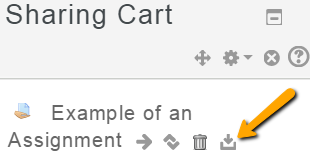 Click the location for the topic area where you want the item. The item is now copied to the course.