Luke Southern is a freelance artist and this rendering* of Maslow's hierarchy depicts so succinctly how I feel about now.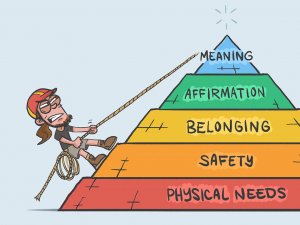 Actually, it's more like I am hanging on by my fingernails, sliding down to safety, scrabbling back up to affirmation, just to slippity-slide back down again. Oh, how I miss meaning.
Not that my weeks of sheltering-in-place are void of meaning, simply that I don't have the mental space to consider things in that light. I was never meant to work from home. I have the attention span of a squirrel and a house full of big and little people who are wondering, "what are we gonna do now?" and "what's to eat?"
I spent my first week home clicking between emails, text messages, news – I didn't process any complete sentences, just absorbed bits of anxiety from here and there. Suddenly my daughter who lives in San Francisco felt a million miles away and my spry parents were in a high-risk category. My big accomplishment for the week? Staying out of the fetal position.
I spent the second week zooooooming from one meeting to another. I was getting lost. So I started writing down what I had accomplished and making lists of things to do (in retrospect I should have used a single notepad, not so many sticky-notes), hoping to find my way back to a more productive version of myself. But I also gave myself permission to indulge in incessant texts with friends and family, which at any other time would have driven me mad, but in this mad time gave me solace.
In week three I began my (re)training:
Set alarm.

Pray.

Make coffee.

Ignore emails until one task is complete.

Review calendar. 

Review emails.

Reach out to one friend before lunch. 

Eat a meal in lieu of 14 snacks. 

Zoom chat with grown folks about discipline-specific information-literacy or the relative merits of discovery systems versus circulation catalogs. 

Task ✔ Task ✔ Email ✔

Exercise.

Wash, rinse, repeat. 
Finally, I took the weekend to be grateful for my faith, my health and my girls, my helpful hubby, my sweet friends, my brilliant library-peeps, the consistency of my paycheck, good food and a fabulous bottle of Spanish wine.
Somewhere in here is my sweet spot. I'll find it. It may not be at the top of the pyramid, but it will be the place I am supposed to be now.
*Southern, Luke. Tower of Maslow. 25 Sept. 2018. dribble, dribbble.com/shots/5307984-Tower-of-Maslow.