Taking a Quiz
Step 1: From within your course in Moodle, open the Quiz by clicking on it.
Step 2: Carefully read any instructions provided by your instructor.
Step 3: Click the Attempt quiz now button to begin. Answer the question(s) on the page and click the Next button to continue.

Step 4: Before you finish your quiz attempt, you will see a Summary of attempt. This displays a list of the questions and whether you answered it or not. If you missed a question, you can click on the question number to go back and answer it, or you can click the Return to attempt button.
When you are ready to submit your quiz attempt, click the Submit all and finish button at the bottom of the page.

Step 5: A Confirmation message will pop up, click the Submit all and finish button.


The page will refresh, and you will see a review of your attempt. Depending on the settings your instructor set on the quiz you may see your grade, right and wrong answers, the correct answers, etc. Instructors may setup the quiz to not allow you to see any information until the quiz is closed and everyone has taken it.
Quiz Navigation Block
During the quiz, this menu will display a timer if the quiz is timed, allow you to navigate through the questions, and finish your attempt. Answered questions will turn gray, unanswered questions will remain white. To return to a question, click the question number and Moodle will take you back to the question.

When you review your quiz attempt, correctly answered questions will show as green with a check-mark and incorrectly answered questions as red with no check-mark. Unanswered questions will show in yellow with a white circle.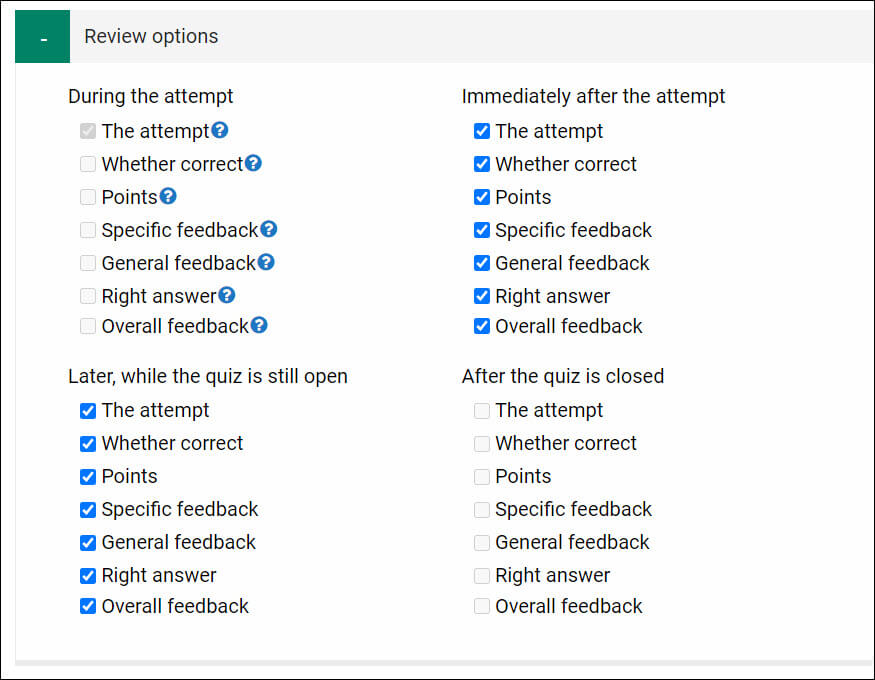 For Moodle help, contact the NMC Technology Helpdesk at 231-995-3020