Summary
Making Memories with Kids, while you're still a "Cool" Parent.
#FrontierAirlines #AllYouCanFlyAirpass #SummerVacation #thecoolparent #makingmemories #travel #adventures #camping #seetheUSA
As a poor kid, I cringed every fall when the first assignment for class was "what I did over my summer vacation". Other kids went to their grandparents, took road trips across the US, went camping in really cool places, visited the metropolis of Green Bay (for Yooper kids, that was the 'big city')…. Me? I spent my days in the woods or on the beach, never really leaving the mighty village of Gulliver. In hindsight, building forts, collecting lost fishing lures, catching frogs, and adventuring with Kevin and Max were the golden days of childhood — but as a kid I was embarrassed that I had gone "nowhere" and done "nothing" …. I certainly didn't want to tell my teacher that Max's mom had sent us off into the woods with a couple sandwiches and instructions to come home when the mosquitos got too bad OR when the sun started setting, whichever came first.
When I was 10, my parents took me on a trip to Montana – my first time out of state (Wisconsin doesn't count when you're a Yooper). I was the trip of a lifetime and one of my fondest memories with my parents. And, yes, I finally had something to write about come Fall.
It's funny to me now…. my kids are the same age I was back then. And don't worry, my two kiddos do go off and adventure in the woods, catch critters, and come home when the bugs get too bad. I know they won't be this age forever, and I know my time as the "cool mom" is winding down. For Spring Break, the kiddos and I ventured off to Utah. 1,018 miles on our rental, and 6 days of hiking, rockhounding,and adventuring. Best part – the rattlesnakes don't wake up till its 65 F out, and since it was unusually cold (highs were in the upper 30's), no snakes! We came home with many memories and 300 lbs. of "really cool rocks" – aka geodes, obsidian, fossils, trilobites, topaz, and more. (thank you Southwest Airlines for having 2 free checked bags per person).
So, when I learned about Frontier Airlines' all-you-can-fly pass… I set up a budget and booked the passes for myself and the kiddos. While our summer does have some commitments (College for Kids, Soccer, Scouting), we have some wide open stretches for some adventures. Frontier flies direct to Denver and Orlando from Grand Rapids. DTW has even more options. We might just be camping out of our rental car, or adventuring on public transit — but that's ok. We're making memories. I'm giving my kids experiences I never could have had growing up. And we're learning. As a writer at heart, I'm having these kiddos keep journals/scrapbooks of these adventures. And I'll be documenting them here on the blog as well. It'll be the summer to remember.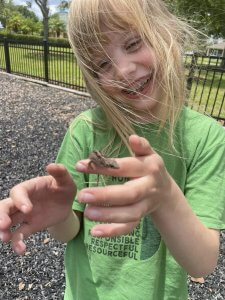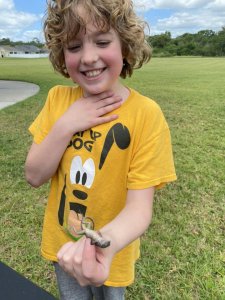 Adventure #1: Florida – technically this one doesn't fall under our airpass, but it was our first post-end-of-the-college-semester adventure. Mom and dad spent a lot of money taking the kids to Disney while they're still at the age to enjoy the magic. Kids' highlights: catching lizards, feeding the soft-shell turtles leftover pizza crusts, seeing characters at the parks. At least Disney parks made the top 3!
Come follow along on our adventures: We will be sharing our #airpass adventures here, as well as on social media – facebook, twitter (@DrCathyNMC), youtube (Youtube – @DrCathyNMC), and Instagram (@DrCathyNMC).