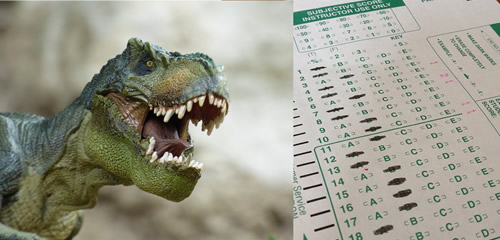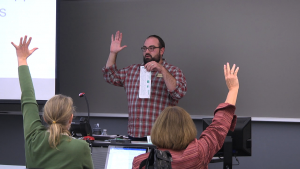 Scantron forms and scanners are antiquated tools still in use at NMC, but many instructors and academic areas are phasing them out in favor of newer assessment technology. During the October PD day I lead a session introducing the Teaching Assistant application, a technology already available on several campus Kyocera copiers and printers. Teaching Assistant allows you to create and score exams and view valuable assessment-driven data in variety of formats.
How does Teaching Assistant work?
Setting up an assessment is really quite simple. Here's the presentation I gave during PD day that will walk you through the steps of generating your Teaching Assistant answer sheets:

And here's a super helpful video made by Kyocera:

What do the results look like?
Teaching Assistant produces the following results in either a PDF that is emailed to you, or in a print out from the copier:
Test Scores: Student names with the number of correct questions, their percentage and their percentile.
Test Scores Bar Chart: A visual display of how students performed in general.
Grade Histogram: An anonymous chart showing grade ranges.
Statistics: Lowest/highest/median scores, Averages, 10 hardest & 10 easiest questions.
Response Frequencies: Break down of how often students responded to each choice in each question.
Below are the results from a sample assessment that I gave to my session attendees during the PD day. Please know that the quiz was over NMC history, but I got a little overzealous with the questions. It was a difficult quiz and my students didn't fair too well. I blame the teacher.
Click here to see Ryan's PD Day results!
Is it too good to be true?
You're probably sitting there thinking to yourself: Wow, Ryan, you sure are an articulate writer. This is some incredible concept you've shared here in your wonderful blog, but are there any drawbacks? 
Thank you for the compliment and I'm glad you asked. There are some drawbacks:
You can only produce the data in PDF form currently. You cannot bring the data into Microsoft Excel or Google Sheets. Fortunately, there is an updated version of Teaching Assistant coming soon which allows you to produce a CSV file, which is much more manageable.
Unlike the scantron form, incorrect answers aren't marked wrong on student answer sheets. If you or your students would like to know which questions they got wrong, you'd have to share the answer key with them.
How can I test it out?
Right now, Teaching Assistant is available in the following locations:
Social Sciences Office – 1st floor Scholar's Hall
Communications Office – 2nd floor Scholar's Hall
Science & Math Office – 2nd floor Biederman Building
Business Office – 1st floor Beckett Building
Great Lakes Campus (not sure of the office – will update blog when I find out)
University Center (not sure of the office – will update blog when I find out)
I'm more than willing to come give you a quick demonstration if you'd  like to learn more. Feel free to reach out via phone, email or by replying to this blog.