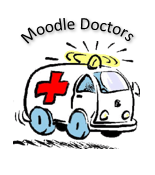 I am not sure how many of you had a chance to check out the Moodle Doctors session at Professional Development day but if you didn't attend this session we wanted to let you know that the Moodle Health Professionals are here to help.
We have a full team of Moodle Doctors in Educational Media Technologies to help you have a healthy Moodle experience.
Here are some quick tips to keep you healthy:
Use Mozilla Firefox or Google Chrome for the best results. (make sure they are up to date).
Only have one instance of Moodle open in a browser at a time.
If something doesn't look right and its taking time to figure it out Call the Doctors.
We are here Monday – Friday 7:30am -5:00pm to help you.  No appointment needed. You can walk in, or call us and we will come to you.  If something is happening after hours we have a Doctor on call for after hour service as well.
We want you to be able to spend your time teaching. That is why we have a  whole team of Doctors waiting to see you.  So while you are preparing your Spring and Summer shells remember Doctors Michelle, Justin, Sherry, Mark, and Ryan are always  here to help.
Do not wait until you are frustrated call the Doctors today at 231-995-3020!