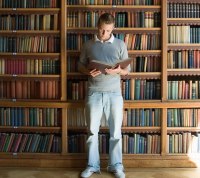 In order to bring more reading strategies to students, Megan Ward and I have created YouTube videos to assist you in using reading strategies with your texts.  One, SQ3R, is a textbook strategy that is highly effective in helping students comprehend and retain the information read in a textbook.  This strategy can be used across disciplines, and simplifies studying for students.  The second, The Silver Dollar Method, is an annotation strategy that can be used with a variety of expository texts.  It aids students in finding the author's main points, and makes writing a summary of the text much easier.  Both strategies are well researched and show an increase in reading comprehension.
The videos are under five minutes each, and provide an overview of how to teach and use the strategy.  Each provides links to Google doc handouts that can be printed out for your use.
Please take a few moments to view the videos.  If you have additional questions, or would like to schedule a demonstration, please contact Megan Ward in the Writing and Reading Center at mward@nmc.edu, or by calling 995-1186.
Here are the links:
SQ3R – http://youtu.be/Qf7xD-9YaKo
Silver Dollar Method – http://youtu.be/WtzTZFkI_2c
Have a wonderful fall semester.