August 20 was all about getting everyone up-to-date on the EL AQIP Project and to hear from you about your needs and wishes and your professional goals with regard to experiential learning.
We heard about the burdens and resources needed to expand quality experiential learning opportunities on our campuses. You told us about the need to have solid professional development activities to support specific needs that faculty and learners may have. We know that there is a need for many concrete examples, which can be used as a basis for future expansion. You focused on quality control and how to adequately assess experiential learning opportunities. You spoke about your questions about elements of the design model that guided our work.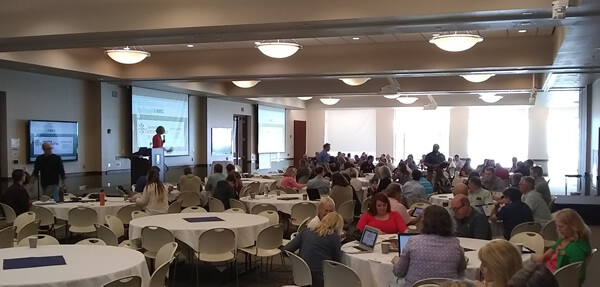 We heard you speak of your excitement at the opportunities that exist with the project. Many of you do experiential learning now and know about how EL relates to your discipline and programs.  Some of you indicated that you are resident design thinking experts and have used variations of it in your own work. You feel that the project presents an opportunity to improve both internal and external community relations and strengthen our institution. We know about your passion for engagement, and how this project will likely increase engagement of both faculty and students across our campuses.
This Fall Semester, we will expand and restructure the team to harvest the wisdom that exists on our campuses. Many have come forward to support the committee, its work and to otherwise promote important elements of the project. We will sharpen our definitions of experiential learning. We will also develop self-assessments that will allow faculty to identify next steps as they apply to assignments and approaches and to experiential learning theory and experiential education. We will create a clearinghouse of experiential learning opportunities to serve as guidance. We will expand the EL LibGuide and its resources to support your study and development. We will offer workshops, sharing and discussion opportunities at NMC Fall Conference in October. We will look at how to develop staff capacity to coordinate with internal and external partners in the expansion of experiential learning opportunities and eliminate some of the tallest barriers. We will come to departmental and academic area meetings to support your efforts. We will also conduct EL office hours in different buildings to allow time and space for one-on-one support.
We look forward to working with you as we begin our next academic year! Thank you for all of your constructive input and feedback!
Sincerely,
The EL AQIP Team