O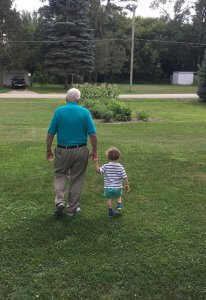 ur first teachers are our families, and after my parents, nobody taught me more than my grandpa, Richard Post, who passed away two weekends ago.
My grandfather taught me a lot of Big Things, of course. But it was the little things I learned from him that I've found to be the most important. I've never met an adult who appreciated little things more than him. Watching his enthusiasm for the simplest adventures in life  – like catching grasshoppers for fishing bait in a homemade net, or snacking on a bowl of mixed nuts, or cutting open a ripe cantaloupe from his garden – showed me there was so much to be learned by finding excitement in small things. As educators, we always have our attention on the Big Things: student outcomes, essential questions, midterms, essays, projects. Those things are important, of course, but we should also take the time to revel in our joy of the little things that make learning authentic. And fun.
It's the small details that can turn a student's interest in your course into professional passion. A great auto mechanic loves the carburetor more than the car; a great writer loves a sound sentence more than a plot summary. The hard part for instructors is transmitting our love for those little things over to our students.
One of my favorite things to do as a child was to help my grandfather prepare his pontoon boat in Higgins Lake for morning fishing trips. Bringing the bucket of bait down to the dock, wiping off the seats, and gently folding and putting away the boat covers isn't most people's idea of fun. But I loved it, because I could see my grandfather's excitement in how those small preparations built towards a joyous day out on the water. It was intoxicating. His enthusiasm became my own.
And for those of us in education, our ability to transmit enthusiasm to our students is the key to unlocking authentic learning.
My grandfather loved to fish, hunt mushrooms, garden, and trap moles in his backyard. I love none of those things, but I learned how to do all of them because I loved him. There's nothing more authentic than that.