Beginners; The joy and transformative power of lifelong learning, by Tom Vanderbilt (2021)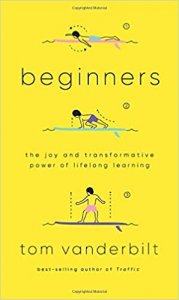 "It's about small acts of reinvention, at any age, that can make life seem magical."
A few weeks ago my best friend called to tell me she was going back to school. It's been a rough decade for her; she's called it the "death of her dreams." Lately, she's been despondent over the fact that we're too old to reinvent our lives. So when she told me she had decided to take advantage of the Michigan Reconnect program and enroll in college, I was thrilled. Always the librarian, I bought this book and sent her a copy. I wish I could give a copy as a gift to each of our Reconnecters.
It's beautiful and inspiring, rich with anecdotes, and easy to read. And for a person entering mid-life, it's a no-nonsense reminder that there is so much more to learn – for the sake of improving one's life or… wait for it… the sheer joy of learning! Vanderbilt reminded me of the summer I taught physics. Ha! Me and physics – only in summer school – and how much fun I and the 9 students who previously failed this course had learning it together. He reminded me why I asked for a sewing machine for my birthday and why I've had "learn to swim" on my vision board for years. While our environment holds many subtle indicators that "learning is for children", Vanderbilt compellingly argues that learning is for the living.
If you recognize that you've become the teacher or observer but rarely the learner, if you need to be reminded of why your job is important, or if you simply want to read a book about human potential that makes you feel happy and hopeful, this one's for you.
Student learning communities; A springboard for academic and social-emotional development, by Douglas Fisher, Nancy Frey, and John Almarode (2021)
Think of group work on steroids – ie. student collaboration that accomplishes all you hoped it would and more! By applying the objectives and principles of a high-functioning professional learning community, instructors can create opportunities for students to work together to solve problems, develop skills and expertise, and grow intellectually and socially.
These days there is a lot of talk about creating learning environments where students can take "agency" of their own learning. If you can agree that *student agency requires students 1. Set advantageous goals, 2. Initiate action towards those goals, 3. Reflect and revise and 4. Internalize self-efficacy (or have a growth mindset) then you are likely to find an effective tool in SLC for accomplishing just that.
Not only does SLC acknowledge that this type of learning community doesn't just happen, but provides the practical guidance to design tasks and experiences that are rich and rigorous, build capacity within students to function in this environment, and gradually release responsibility for learning to the learners.

SLC prepares the reader to "leverage peer supports to amplify learning" and "activate all students' leadership skills to enhance their ability to succeed alone and together." The potential for synergy at the intersection of individual and group agency – WOW, that's exciting!
Like I said, group work on steroids.
*Poon, Jennifer Davis. "Part 1: What Do You Mean When You Say 'Student Agency'?" Education Reimagined, 11 Sept 2018.
***Both books are available in print at your friendly NMC Library.***