PoodLL Widgets allow you to easily add items like tabs, accordions, stopwatches, lightboxes and more to a Moodle course page.  Several PoodLL Widgets are now available. These tools can be a great way to spice up the way you're delivering content in your course, enrich content that you've already created, or make content more interactive.
Adding a Widget
The PoodLL Widgets exist anywhere you see a text editor in Moodle. When editing the settings of the activity or resource, simply click on the "Insert a widget" button in the editor.

In the pop-up that appears, click on the type of widget you'd like to insert.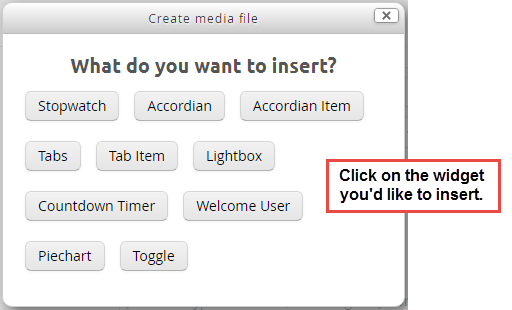 Reference the list below to see what's available and learn how to use each widget.
Types of Widgets
Tabs
Tabbed content is a way to organize multiple pieces of information horizontally on a similar topic, while keeping your user grounded in only one piece of content at a time. It could be useful to display steps in a process, or parts of the whole.

Accordion
An Accordion is similar to tabs, but accordion content opens vertically. This also is a way to keep users focused on one piece of information at a time.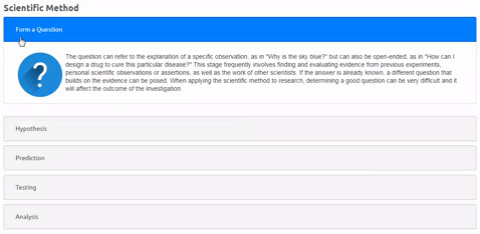 Stopwatch
You know what a stop watch is.
Lightbox
A lightbox allows you to link an image to text. The image will display when the text is selected.
Countdown Timer
You know what a countdown timer is.
Pie Chart
You know what a pie chart is, but this one might be really useful for displaying grade distribution.
Welcome User
The Welcome User Widget will add a greeting to the user when they view content. The name and image change depending on whose logged in.

Toggle
The Toggle feature is like an accordion. It allows users to expand and contract information.
What to know more?
Feel free to reach out if you'd like to learn more. I'd be happy to teach you how to use these new tools.
There are many other PoodLL Widgets available. If you're looking for something for your course, but don't see it on this, let me know. I'd be happy to see what's out there that might fit the bill.