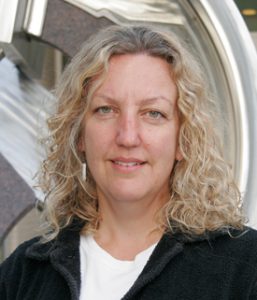 Communications instructor Nancy Parshall has had a big year: in the past twelve months she has had stories published in Dunes Review, Dime Show Review, Bear River Review, and KYSO Flash. And now, she's been chosen as the winner of the 2017 Michigan Writers Cooperative Press chapbook competition in fiction for her short story collection Proud Flesh. Not only will she have her collection published (watch for it in local bookstores and on Amazon), but she, along with the poetry and creative non-fiction writers, will be honored with a public reading and launch party June 11 at the Writing House on the campus of Interlochen Arts Academy.
Nancy draws inspiration for her fiction and creative non-fiction from both her past and her present life. Before coming to NMC, Nancy taught in the university system in Tokyo for nine years and traveled extensively throughout Asia on a shoestring budget. One summer, she spent six weeks on an Australian fishing boat off the northeast coast of Australia, an experience she is writing about in a memoir. These days, Nancy lives with her husband in Lake Leelanau on a hobby farm with horses, ducks, chickens, cats and dogs, including Baxter, a blind diabetic beagle she "accidentally" picked up while volunteering at the humane society.
Now, Nancy draws on her own writing expertise to teach composition and uses her international experience to teach ESL classes.
Read some of Nancy's flash fiction stories here: "When the Horses are Dead," "Where the Piano Stood," "The Neighbors Will Take the Chickens."