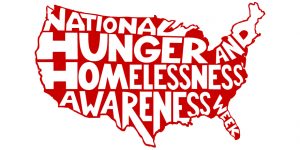 Driving to work and my mind is full with a running list of worries of 'what if's.'  It's my second time around of doing a 'three-way cross-disciplinary experiential project' of participating in the National Homeless and Hunger Awareness Project.   I am concerned about all the busyness of the project such as deadlines, the grading, and hoping that the work is meaningful.  And if I am being honest, is it really worth all this work?  Is it worth the extra time, meetings, frustrations that my coworkers and I go through to add meaning for our students?
As I approach Scholars Hall in the rain, I see a young man asleep under our building propped up on his backpack.  I ask him if he would like to come inside.  I came in early to grade and get my day started without interruptions but now I have other priorities.  This young man talks to me for the next hour about how he has been wandering with his friends for the past several days, sleeping on each other's couches, eating 'here and there' and that he plans to walk back to his mom's home later that day which was about eight miles away.  He explains that he is not a student currently but was one earlier and lost his resources and that he is planning on coming back soon.  
During the time that we talked, he was charging his phone and eventually made some calls and arranged for someone to pick him up at 7/11.  Before he left he said he hoped to be back on campus soon.  I was certain that I benefitted more from our interaction than he did.
Today a student left my class abruptly without any explanation.  He stopped by my office later during office hours.  He wanted to apologize for leaving and to offer an explanation.  He was kicked out of his home, his phone was cut off, and he lost the use of his car.  All in one swoop.  He was not able to concentrate on class so he needed to leave.  I asked him if he had a place to go that night and he said 'he would figure it out' and with that he left.
I will no longer question if the time and effort that we put into projects such as this  'is worth it.'  Every interaction such as this tells me that what we do is worth it.