Smarthinking is a free online tutoring service for NMC students. Students connect to educators for live, online tutoring up to 24 hours a day, 7 days a week, enabling students to get the help they need when they need it.
Tutors do not solve the problems for students, but rather teach the underlying concepts.  Students can connect with a tutor in two ways:
On-demand: Students are connected with little to no wait time to get one-on-one assistance in real time.
Schedule an appointment: Students who prefer to plan ahead can schedule a 30-minute appointment with a tutor of their choice. At the scheduled time, the student and tutor connect live using the virtual whiteboard technology.
All sessions are archived and available for students to review at any time for studying or test preparation. Subjects include:
Mathematics.
Science.
Business.
English for Speakers of Other Languages.
Spanish.
Computers and Technology.
Nursing (coming this fall).
Students can access Smarthinking through Tutoring Resources by logging on to Moodle and clicking Tutoring Center in the Student Info block.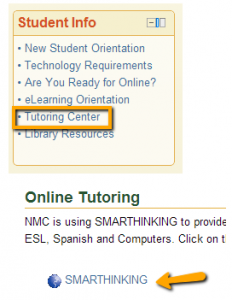 For an overview of Smarthinking watch this :