A new, easy way to move Topics, Items, and Blocks in Moodle was included in the update. Do you remember how hard it was to move items and how frustrating it was to move a topic section? You would get half way down the page and you would loose it and have to start all over. In the latest update of Moodle, they have fixed this issue. There is now an improved way to move items.
Just click on the Move icon either in a topic section, a block, or an individual item without ever having to drag it anywhere. Please see the tutorials below.
Moving Topic Sections, Blocks, & Items: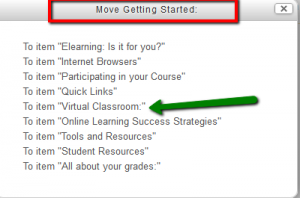 This will open a list of either Topic sections, Blocks, or Items in your course.  Click the name of the area where the item is to be moved.

It will then be moved to that area.
The ability to drag items using the Move icon is also still available.
Please see these short videos on Moving Topics, Blocks, & Items.