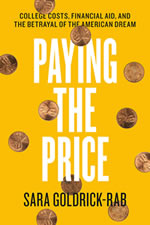 We all know that college–even community college–is expensive. It is hard for many of our students here at NMC to afford tuition, fees, food, housing, and books let alone take on those costs while also trying to work less so they have time to go to class and do homework. Many students try to do it all–support families, work full-time, and succeed in college–but it is almost impossible.
In this year's NMC Reads book, Paying the Price: College Costs, Financial Aid, and the Betrayal of the American Dream, Temple University professor of sociology and higher education policy Sara Goldrick-Rab shows that college is becoming more and more important to future financial security and the dream of a middle-class lifestyle. At the same time, however, it is becoming harder and harder for students to afford it. Our financial aid system is simply no longer sufficient to enable many students to make it through four years of higher education. Many students attend school part-time while still working 30-40 hours, many drop in and out, and many don't complete at all. Basing her book on a study of 6,000 students receiving financial aid in Wisconsin,  Goldrick-Rab shows just how difficult it is for students to navigate the challenges of paying for college, what the ramifications of failure are, and what we can do to fix the problem.
We will discuss this thought-provoking book at a session at the NMC Fall Conference in October. If you would like a copy, please contact Rita Kucera (rkucera@nmc.edu or 995-1046) or Kristen Salathiel (ksalathiel@nmc.edu o 995-1392).