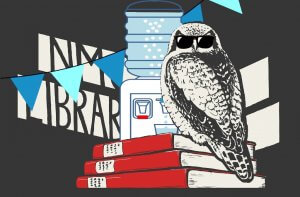 Sign up now to receive Revelers at Roost, A Spring Break Diversion from NMC Library and Friends!
We may not be taking a true Spring Break this year, but that doesn't mean we shouldn't pause now and again in the heart of the semester to recharge.
While we seem to be interacting plenty over Zoom, we are missing out on the rich subculture of the chance hallway encounter and the coffee pot confab. Where else do we hear sporadic updates about colleagues' hobbies, interests or passion projects? Or get nudged to explore something new through a spark of idle conversation?
In the vernal spirit of renewal, NMC Library and Friends present, Revelers at Roost, a staycation for your mind!
What: Eight mini-newsletters from NMC Library & Friends. 'Subscribe' to one, two, or all eight!
When: March 29 – April 2
How it Works: Follow the link below to browse previews from contributors of the kind of things you can expect from their newsletters, then sign up for the ones that interest you. That's it! For each mini-newsletter you subscribe to, you'll receive one short message each day of what would have been Spring Break.