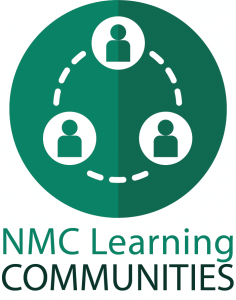 A Learning Community (LC) is a group of faculty, staff, and other interested individuals who get together to investigate a question or pursue a topic of interest. They provide an opportunity for professional learning as well as a sense of community. NMC is among many other colleges and universities who have created a vibrant culture of inquiry through LCs, and you're invited to join!
Check out the 2019-2020 Learning Communities. There are a few new groups and several returning LCs this academic year.
LCs typically meet four or five times each term. These groups are a great way to collaborate and share ideas with a variety of colleagues on campus. Each group has a small budget to work with and hours spent meeting with your group can be counted as professional development towards your Faculty Evaluation Plan.
If you have any questions about LCs or if you'd like to propose a new LC or join an existing LC, please don't hesitate to reach out to Kristen Salathiel or Ryan Bernstein.